Coronavirus Latest
Posted By: Grand Castles | Posted Date: Monday, June 8, 2020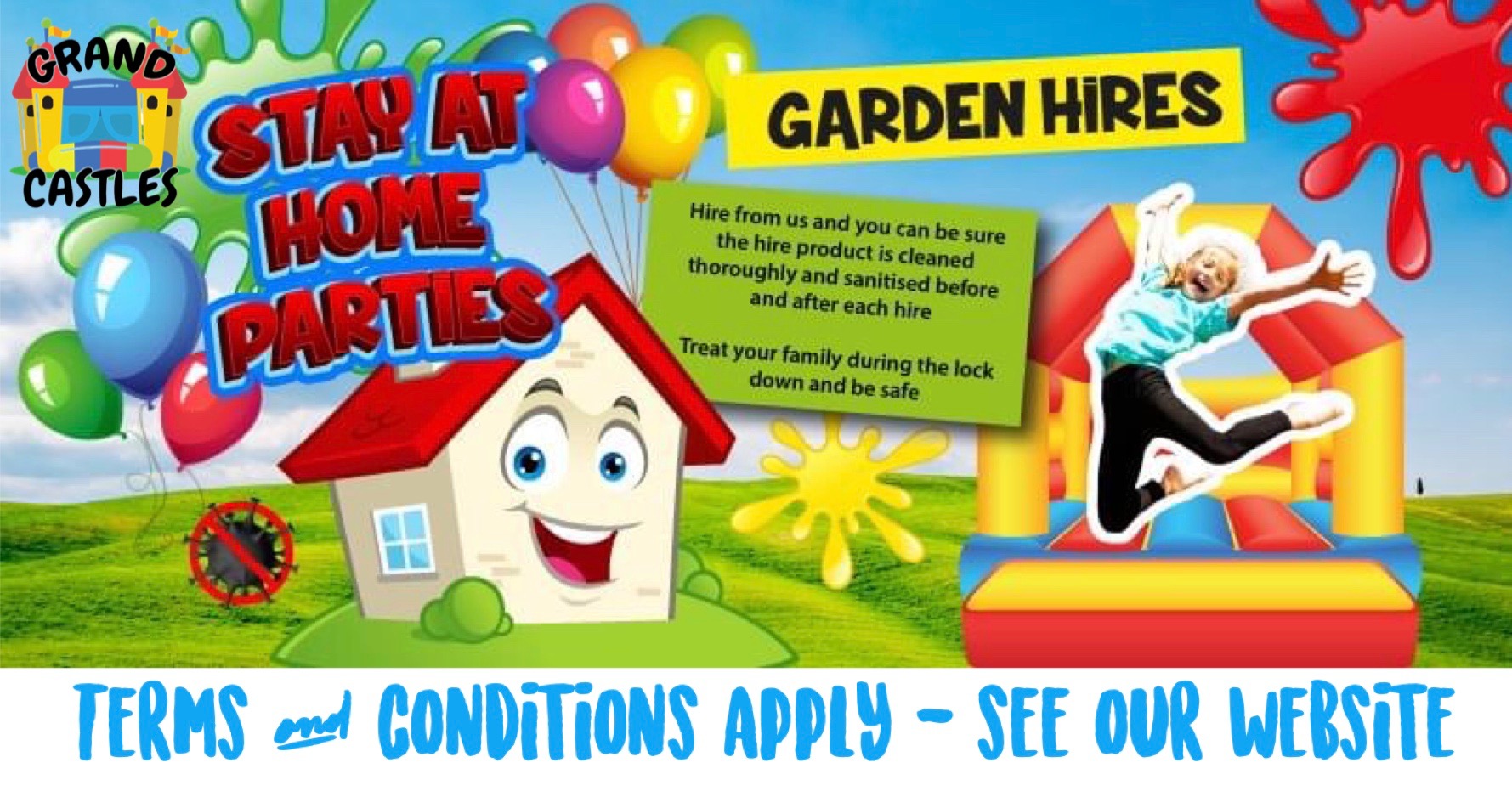 COVID-19 LATEST NEWS
**UPDATE** We are now open and taking bookings. Terms and conditions apply. Please read these before booking.
As we move towards a relaxation of the lockdown we are starting to prepare for a return to hiring.
There are a few things we need to get in place first:
• We need approval from ELDC Environmental Health Department – We have submitted our updated method of working and are awaiting their response.
• We want to have all of our inflatables safety tested prior to re-commencing hiring - We have this booked for 16th February.
• We need to ensure our cleaning and sanitising procedures are thorough and satisfactory - We will be steam cleaning our castles following a 72 hour quarantine after each hire, and spraying with a 2 stage antiviral cleaner upon setup and collection.
We are aiming to start hires on July 1st and online booking is available from this date. This will initially be to private enclosed gardens and only for the occupants of the household. We will not under any circumstances hire to events or social gatherings of any kind. Full terms and conditions are on our website - please read these prior to booking. The additional COVID-19 terms and conditions are listed below:
Supplementary terms and conditions (Covid-19)
1. Although up to 6 people are now allowed in private gardens, any bouncy castle or inflatable will be for use by members of the household that hired it only – this means no neighbours, friends or family not residing in the household. Persons from other households must not, under any circumstances being invited to, or allowed to use the equipment we have supplied. Upon us receiving notification that this condition has been breached, we will immediately return to the hire location and retrieve the equipment.
The hire period will be deemed to have ended upon our arrival, and no refund for any part of the unused hire period will be offered.
2. We will only deliver to private, gated, enclosed gardens and inflatables will only be installed on a suitable grassed area. We do not condone or encourage gatherings of any kind.
3. We cannot deliver to any household that has an occupant being 'shielded' or deemed high risk or is in isolation.
4. We cannot deliver to any household where any occupant has shown any symptoms of the virus, or has tested positive for the virus within 14 days prior to the hire. If any occupant develops or displays any symptoms on the morning of the hire, or during the hire period we must be informed immediately. In these circumstances we will cancel or curtail the booking as appropriate.
5. All occupants of the household must remain inside the house while we deliver, install and collect the inflatable. This means the inflatable must be vacated with all occupants inside the house prior to our arrival for collection.
6. There must be access to your garden via an open side gate – we cannot enter or go through any house and an RCD protected external power supply must be available.
7. Availability of inflatables may be limited as there will be a minimum period of 5 days between hires of specific inflatables. We will only be supplying standard bouncy castles and inflatable games to reduce the risk of contamination. Obstacle courses and disco bouncy castles etc will not be supplied.
8. We can only accept electronic forms of payment at least 24 hours prior to dropping off the inflatable.
9. Our terms and conditions must be accepted online at the point of booking, or by email at least 24 hours prior to the hire.
We will be using masks and gloves and all inflatables will be disinfected before and after being hired out. We reserve the right to refuse any hire on delivery if the above terms are not adhered to and we reserve the right to amend these conditions or cancel or curtail any booking at any time as the government advice changes.

If you cannot agree to all of the above, please do not book with us at this time.